super exciting topic I know! Well I thought I'd share what I learned in case others are curious about LED taillights. I wanted to try one for two reasons.
1) Faster response
2) Hopefully brighter
I read a lot of mixed experiences, many saying they aren't as bright, LEDs are not as bight off angle, and reflectors aren't designed for them, and blah blah, so I wanted something pretty bright.
Got one of these to replace the stock bulb in stock housing
1157 3.8 Watt 36 Red LED
<!-- m --><a class="postlink" href="http://www.amazon.com/gp/product/B005NYT4RI">http://www.amazon.com/gp/product/B005NYT4RI</a><!-- m -->
stock 27W ~402 lumen (on high) bulb on low, off angle, no background light
LED 3.8W 160 lumen, off angle, no background light
stock on high, spotlight on in background to get some good real-world glare going
LED on high, spotlight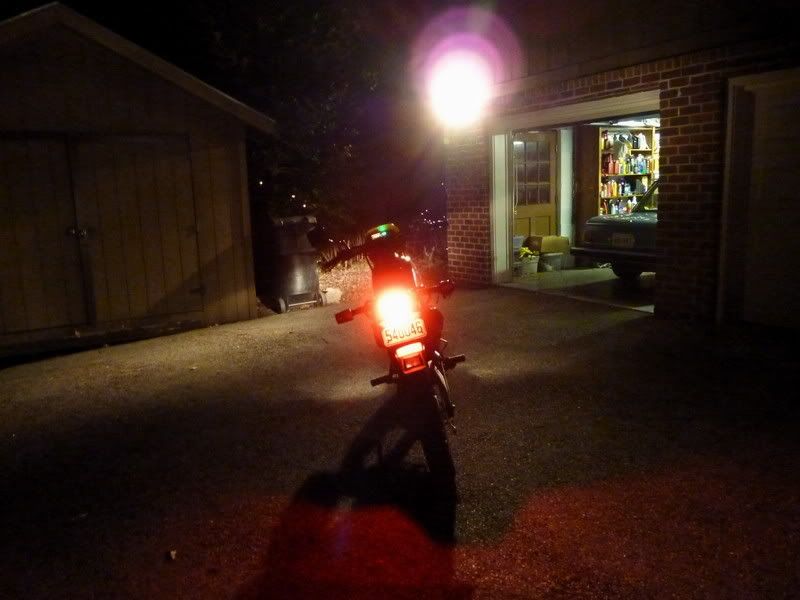 As you can see, photos don't show a big difference in brightness, though to two different sets of eyes, the "high" (brake on) was brighter. And the off angle on high or low didn't seem to be a problem. Looked like a pretty normal light to me. And it responds noticeably faster. So I'm content.
Some things to look out for if you're looking to buy:
Include "SMD 5050" in your search. You don't want this type with the through-hole LEDs
And there are a few SMD sizes, most often used are 3528 and 5050. 5050 is a larger size and approx 3x the output per LED.
As you can see, 36 of them is somewhere in the range of what you're looking for to emulate or beat a 27W stock bulb. If you look around, you can find some that are longer with 50+ SMD5050s on there, that would be sweet as long as it'll fit in your housing. So check how much room you have available.
Match LED color to what you want to see. While the stock light might be white/yellow, and then red or amber due to the lens, a "white" LED is really 3 different color LEDs and much more of the light is just going to get filtered out by the lens.
It doesn't seem like any reputable manufacturers are making the things (they're probably not legal for street use), so yes, it's going to be super china brand. Oh well. Fortunately there's not much to the product, mine appeared pretty well made. But much of what's out there would be woefully underpowered if you don't know what you're looking for.
For turn signals, yes, you'll probably have to put a resistor in-line or buy a bulb that already has that or the turn signal will flash fast since the bulb isn't drawing much power. At least in may case, for a brake light, this wasn't necessary.
The only thing that stops a bad guy with a van is a good guy with a van