Hey everyone! I finally figured I'd done enough to my truck to justify a build thread!
I got it in October of 2012 with 123k on it. Completely stock
Not a total trail rig, but as it's my only vehicle, I can only do so much. Plus, being a freshy, I don't have much money
I'm not sure how cool it is to post your DD in this section, but oh well.
How she sits as of 4/12/14
Mod List:
diamond plate bed rails
Kenwood double din headunit
650W pioneer amp
10 inch MTX Jackhammer sub
Playstation 2 mounted under rear passenger seat
TRD seatbelt covers
Uniden 520 CB in ashtray location
Wilson 100 5 foot antenna
Magnaflow 18" Muffler
Painted skids
Grey wire mod
Aluminum Husky Toolbox
Plastidipped badges
Diff breather extension
"Blue" gauge lights
Deckplate mod
4xInnovations rock sliders
Ultragauge mounted on windshield
PA speaker mounted in grill
Optima gold top
Bilstein 5100 Adjustable Ride Height fronts
Bilstien 5125 rears
Old Man EMU Dakar Leaves
OME Greasable shackles
How it all started. Little red AKA Consuella!
She met her demise.
How she sat when I got her to replace my wrecked 96 5 lug.
First mod was painting my skid plate and getting better tires. BFG Rugged Terrains. Much better than Rugged Trails.
Added extra badges
Got a Husky toolbox and of course I've collected stickers over time. Every Tool I own is in this toolbox, which is almost 99% full. Just about every dollar I've made is in this truck in one way or another.
Repainted my bed rails and my buddy's Celica's interior
Magnaflow 18 inch. Sounds meaner than stock, but nothing that'll turn many heads.
TRD Seatbelt cushions. Got them for free, so I'm not complaining. They didn't fit at first, so I had to cut and sew them.
Toyota reaclled the rear tire carrier recall so while I got that done, I repainted the spare wheel.
Grey wire mod (This allows me to use my Electronic diff locker in 2wd. Done in the R1 lot)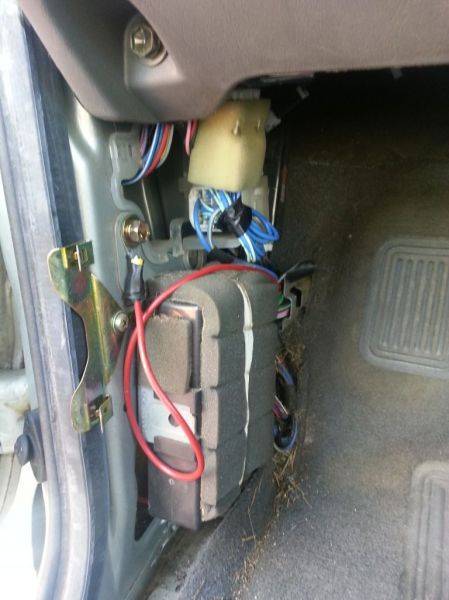 Painted fuel tank skid (Also done in R1)
Kenwood Double din touchscreen head unit (Playing Crazy Taxi on my PS2) (This was done in R1 too... thanks to Ryan and Sam for keeping me from being out there all night)
Pioneer amp and dremel charger ran off an inverter from the cigarette lighter
12 inch Sub
Playstation 2 under the rear seat
Got blue bulbs for my dash, but they didn't turn out blue. Oh well, at least I can see my dash for the first time since I got the truck!
Ultragauge and Uniden CB in the ashtray slot
4 foot fiberglass antenna
Had to make my own bends in the Antenna mount I got since it didn't fit right
Also a PA speaker behind my bumper hooked up to my CB. Inspired by a guy I met at a TacomaWorld meet in Harrisonburg
Sliders from 4xInnovations painted and ready to be welded on
Shoe creek run! Travis did my diff breather mod while we were there, I'll post a pic later!
The run finished off my leaves. They're completely negative now. More reason to work hard to buy my new lift parts!
Upcoming
extended brake lines
dual batteries
aux fuse block
15x8 wheels
33x10.5x15 tires
tube bumpers
tire carrier
Better skids
diff drop (Maybe)